Network Infrastructure
LiveCom has established a global network infrastructure overall the world which benefits enterprises or telecom company to set up international communications with least investment and highest efficiency. LiveCom's global network infrastructure includes the network nodes (POPs) deploying the countries over the four continents of the world, the satellite ground stations (teleports) deployed in Italy and Hong Kong, the international direct dialing (IDD) voice platform & international SMS platform, the satellite TV broadcast control platform, and the satellite-based Internet access platform.
LiveCom POPs in the world
LiveCom has deployed global POPs in world-class data centers of the city Nanjing, Hong Kong, Sydney, London, Paris, Cagliari, Rio de Janeiro, Los Angeles, and New York. Among these POPs, LiveCom established self-operated backbone circuit among each POP site with high reliability, stability and availability service.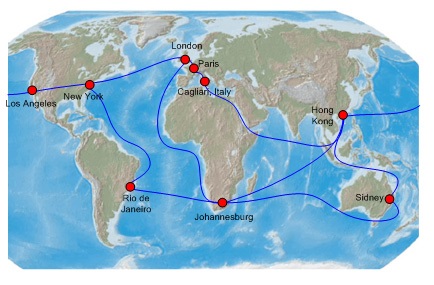 LiveCom POPs in Asia Pacific
Hong Kong (China) - As one of the Top 4 telecommunications hubs in the world, Hong Kong attracts world mainstream telecom carrier converge to here, and there are rich submarine cables and satellite ground stations resources. By leveraging the telecom market of Hong Kong and world leading hardware infrastructure, LiveCom has established first class convergence point for global network in Hongkong, which includes IPLC/VPN Link interconnect with global POPs, IDD & SMS exchange platform and CDN platform.
Nanjing (China) - The POPs located in Nanjing, which is deployed at ZTE's cloud computing center, provide customers with high-quality private line access services and cloud services with best price/performance ratios via ZTE's global cloud platform.
Sydney (Australia) - The POPs connected to Sydney, which are the backbone nodes in Oceania, carry data network services and CDN services for Australia, New Zealand, Papua New Guinea, and multiple island countries of Oceania.
LiveCom POPs in Europe
Paris and London (Franch & UK) - The two important cities of telecommunications hubs in Europe. The LiveCom POPs located in Telehouse 2 of cities of Paris and London which deployed CDN platform and connect with Internet backbone, in order to LiveCom is able to provide content distribution services for Europe and Africa area, as well as broadband Internet services and private line access service.
Cagliari (Italy) - In Cagliari, there is Eutelsat's second large teleport. LiveCom cooperate with Eutelsat to set up POP site in Cagliari Teleport for seamless connection between satellite communications and ground/submarine cable communications.
LiveCom POPs in Americas
New York and Los Angeles (USA) - LiveCom has POPs deployed in the east and west coasts of America to provide access services for the North American Region.
Rio de Janeiro (Brazil) - Brazil the largest nation in Latin America is an important telecommunication hub in this region. In order to provide service in Latin America and the Caribbean, Livecom deployed a POP site in Rio de Janeiro.



LiveCom POPs in Africa
Johannesburg (South Africa) - Sub-Saharan Africa is one of most significant market for LiveCom, In order to provide most cost-effective service for Africa customer, LiveCom setup POP in Johannesburg, South Africa which could provide low-cost and high-quality network access services across Africa.

IDD International Voice Platform and International SMS Gateway Platform
By leveraging the competitive edge of Hong Kong as an international communications hub, LiveCom has deployed an IDD platform and international SMS platform based on the next generation network (NGN) technology. By making use of Hongkong's network infrastructure and market resources such as interconnected routes destined for diverse places in the world, satellites operating across the globe, and submarine cables, the IDD platform and international SMS platform interconnect with over 500 telecom operators in the world to provide IDD call and SMS service in 200+ countries.
Dish TV Platform
LiveCom has self-operated dish TV broadcasting system which located at teleport in Hongkong and Cagliari, Italy. The service area covers Africa, Middle East, and part of Europe by using the C-band satellite transponder. The all programs with legal copyright obtained from China Central Television Company (CCTV), are transmitted to Cagliari Teleport through LiveCom's global CDN network and then delivery to covered region via Satellite. In addition, LiveCom has deployed a satellite TV broadcast control platform in Hong Kong which functions are as media content editing and management and video on demand (VOD) service pushing.
Satellite-based Broadband Service Platform
LiveCom has deployed the iDirect TDMA satellite system for the teleport in Cagliari, Italy to provide satellite network coverage in Africa and Middle East via Europe's satellite transponders. By connecting global Internet backbone network in Europe, LiveCom is able to provide fast Internet service, private line service for small &medium enterprise or organization with very cheap fare.